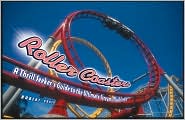 Roller Coasters: A Thrill Seeker's Guide to the Ultimate Scream Machine
is almost a coffee table style book, it is over sized and has an eye catching cover. It is targeted for a very special niche' -- the roller coaster enthusiast. The group that loves coasters so much that they travel the country looking for the next big thrill. This book is for them.
Roller Coasters
is a non-fiction book that is meant for an adult high school audience. It has a lot of information text that covers all aspects of roller coasters. It begins with the history of roller coaster, moves on through wooden and steel coasters to extreme machines to rocket coasters, and finally to the future of where they are going from here. Each chapter goes into great detail describing the design and how the coaster works. Pictures and diagrams support the text and make the book visually interesting. One of the most interesting things in the book is the information on how the different theme parks are trying to out do each other with bigger and better coasters. It's highly competitive with millions of dollars of park admissions at stake
I enjoyed looking at the fabulous photographs of all the different coasters. They were taken at angles and views that aren't normally accessible for most people. The aerial views are some of the most impressive with the action shots running a close second. It's worth your time just to look at the photographs and dream about your next trip to your favorite amusement park.
Another great thing about this book is that it has an Appendix of all of the biggest and greatest amusement parks from around the world so that you can plan your next roller coaster vacation. It also tells you it is only up to date to summer of 2005 because there's always a new coaster being built somewhere.