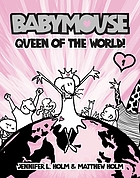 I had never been a real fan of graphic novels even though several great librarians have had highly recommended them. I hate to admit that I have rolled my eyes many times when some of my lowest 5th grade readers walked out of library time with a copy of the one of the many
Diary of a Wimpy Kid
books. So to better educate myself I decided to read both of the graphic novels and then to pick one to blog about. And the winner was...........
Babymouse Queen of the World
!!!!!!! It is one of a few graphic novels that target audience is girls.
Babymouse Queen of the World!
is a delightful book about a young mouse that is just trying to fit in and survive in school. The story begins with Babymouse thinking about the less than exciting thing called her life. She wonders "Where was the glamour? The excitement? The adventure?". Then she allows her mind to wonder how it would be "Queen of the World". All thoughts that young girls have on a regular basis. Of course there is already a Queen in Babymouse's world and her name is Felicia Furrypaws. However Babymouse is lucky mouse because she has a best friend Wilson the Weasel who is always there for her and invites her watch movies on Friday night. Unfortunately drama is about to occur in Babymouse's life. Felicia Furrypaws is having a slumber party and everyone who is anyone is invited except Babymouse. As many girls have done in the past and will continue to do, Babymouse tries to charm, bribe, and beg herself an invitation. But Felicia is not interested until the day she needs a book report...then she is willing to bargain an invitation for Babymouse's book report. Oh the excitement of an invitation to a glamorous slumber party! She starts packing immediately. Life was glorious till the day of the party and Babymouse runs into Wilson and he reminds her of their movie night. "Ow!" What was a mouse suppose to do? Wilson would understand. However the slumber party isn't the fun time that Babymouse expected. The party started with the girls talking, talking, and talking. Next girls did their hair and there was a flat iron accident and then they painted their nails and there was a polish accident all Babymouse's fault. It that wasn't bad enough they started watching a yucky romantic movie and Felicia ordered Babymouse to make popcorn. But the worst was when the girls started gossiping mean thing about classmates and Felicia targeted Wilson. Babymouse was stopped in her tracks, "Babymouse couldn't imagine not having Wilson as her best friend." She realized that she was the Queen of her own world and that needed to be with her true friend Wilson. She dumps Felicia's "extra butter" and popcorn on her head and races to where she belongs with her true friend Wilson.
Not only does this book bring back memories of my own girlhood, it is true with my students today. Babymouse is a sympathetic character that most girls can relate too. She isn't to tall, she isn't to short, her style is a simple black and white dress with a single pink heart. Actually all the illustration in the book are black & white with touches and shades of pink. It gives the graphic novel a touch of "girlishness." I also love how easily Babymouse moves from her regular drab life to her super imagination life which is highlighted with high action and movie style drama. She uses her imaginary life to help her cope or escape the drama that is occurring in her real life. To help the reader transition Babymouse's fantasy story line the illustrator uses lots of black and darker pink. Babymouse's life reflects those of most girls the dullness of just being alive, having to deal with the demanding popular girl, and the best part is a best friend that accepts you for who your all. The sweetest part of this story is when she realizes that Wilson is her true friend who allows her to be herself. I now understand why my students gravitate towards this series and graphic novels in general. They can relate to Babymouse because she is going through the same things that are happening in their lives. Reading the story also helped me understand when my low students could power through this type of book but never complete even a simple chapter book. The sentences are not complicated, uses a limited vocabulary, and the story lines are short so its easy to read a little and stop before a child becomes overwhelmed or exhausted. While I would not consider
Babymouse
or
Diary of a Wimpy Kid
great children's literature I now understand the important part that it plays in developing the love of reading in children.