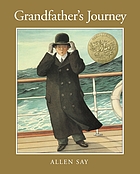 One of our textbook reading assignments in class was for multicultural literature. It made me more conscious of the literature choices that are available in our school library. Since I have a very quiet Asian student I decided to search my local library for book with people who look like her and might share some of her background. There were two reasons that I choose
Grandfather's Journey
by Allen Say. First was that I was looking for multicultural books for my classroom that would represent my Asian student. The second was that my student's parents are also immigrants and I thought the story might seem very familiar to her. I was also pleased to see that that
Grandfather's Journey
was the 1994 Caldecott Medal Winner.
The narrator in
Grandfather's Journey
is actually the author, Allen Say. He tells the story of his grandfather coming to America from his home in Japan. We learn about all the things that his grandfather saw; the Pacific Ocean, riverboats, deserts, endless farm fields, huge cities, towering mountains, and "rivers as clear as the sky."
He met people from all races and backgrounds, and "the more he traveled, the more he longed to see new places, and never thought of returning home.
" Finally he settled in his favorite place, the Sierra Mountains along the California seacoast, and brought his Japanese bride to join him. As life goes on he raises his own daughter and begins to think about his life and the beauty of his homeland. He returns his family to Japan. He rejoiced at reconnecting with his old friends and the beauty of his childhood home. However his daughter was not happy in a small Japanese village so the man bought a city house where the girl met her husband, and the narrator was born. Allen Say went on to describe his wonderful visits to his grandfather's house until War World destroyed what had been a peaceful world. Grandfather's beautiful home was gone so he moved back to his childhood village where he dreamed of seeing California again. Unfortunately, he never went back. The narrator grew up and made a journey of his own to America. He learned to love his new country and had a daughter of his own. In the end he says....
"But I also miss the mountains and rivers of my childhood. I miss my old friends. So I return now and then, when I can not still the longing in my heart.
The funny thing is, the moment I am in one country, I am homesick for the other.
I think I know my grandfather now. I miss him very much."
There are many things that I loved about this book. The first is the beautiful art work that Allen Say has created with simple watercolors. He uses their softness to create an almost dream like imagines in the story.The illustrations give the feel that you are with him looking back at his memories. They have the softness and hazy that memories have over time where you forget or ignore all the bad things. The next thing that I enjoyed in this story was the simplicity of the sentences. Each word was chosen with care, there's not a word wasted. They allow the pictures to carry the imagine and for your imagination to soar. As a military spouse, I understand the problem of loving where you are yet missing and longing for your childhood memories. Every place you live has its own special beauty and cultural that you can understand and appreciate, however there's always something inside that draws you back to the comfort of your childhood.
Finally as someone who came into teaching later in life, I can relate to Allen Say. He had many careers and lives before he became a writer and illustrator. Then he used his life experiences to tell stories and help people understand his multicultural view point of the world.