I am starting to think that I am the only elementary school teacher in the world that isn't familiar with Cynthia Rylant. After hearing about her wonderful writing style, I was very excited to get to choose two of her books to read and blog about this week. My first selection that I made was
Silver Packages: An Appalachian Christmas Story .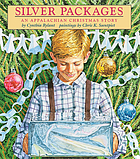 The story takes place in Appalachia Mountains every Christmas. The older people could remember when a rich man who had been traveling through the area had an accident and was injured. He was saved and nursed back to health by a caring local person who would not take any money for their help. "So that rich man left the mountains feeling he owed a great debit". To repay that debit each December 23rd, he brings the Christmas Train into the hills. Frankie, a local boy, tells the story of how each year he waits for the train no matter how cold. Every year he is waiting for "a particular present: a doctor kit." The man in the back of the caboose always has "a sparkling silver package" for him, but it is always something he needs warm socks, gloves, hats, and scarves with a regular toy. Frankie grows up and moves to other places and meets new people, but part of him always remembers the Christmas Train and how he always received what he needed the most, "when it seemed his feet would freeze like the snow a man on a train had brought socks. Just when it seemed his fingers were hardening to ice, the man had brought mittens. Just when the cold wind was cutting sharp as a blade into his throat, the man had brought a scarf. And just when Frankie's ears were numb with red cold, the man had brought a hat." After reflecting on this Frank, the adult, realizes that he needs to go home to repay his debit. The next Christmas he watches for the Christmas Train with the local children and when a child is injured he reveals that he has come back to be the town's doctor.
What caught my eye about this book was the Christmas theme on the cover. I have a collection of Christmas Children's books and I am always looking for a story that is usually or different. The illustration have a soft nostalgic look of a past time. The deep red end papers remind you of Christmas and of some kind of richness.The first page of the story show a hillside covered with bare trees, snow, and an icy blue black river. It would be a cold picture except for a dozen little houses huddled into the side of the mountain all with their lights glowing. They create a sense of warmth even in the frozen winter. When you reach the first picture of the children waiting for the train you can feel their excitement, but as you read the text you notice that Frankie, the character telling the story, doesn't have any socks on his feet. After that you notice that most of the children look a little ragged, but as the train pulls in "they cheer and clap'. Yet it also says "some of the mothers even weep to see it coming." Without saying it the story and illustration start to reveal that the Christmas Train is not just a "fun" holiday activity, but that it is a desperately needed supply train for a very poor community. Sadly this book reminds me of the stories of my mother growing up in North Georgia. I grew up with her tales of how my Grandmother who was a teacher, took all of my mother's out grown clothes to poor children at her school. There were also the years when the crops failed and my mother's only gift was one that she had earned the money. Like Frankie my mother also moved away from her childhood community as a young adult, but again like Frankie she has returned to help enrich her first home. To me this is what the rich red of the end pages represents the feeling of community and belonging.
As much as I have connected with this story and thought it was beautiful, I probably would not use this book as a read aloud with my students. I don't feel that most of my students would have a connection with being so poor that their only gifts might come from a stranger in a train. Nor as second graders would they understand owing something to their community. However I did notice that this story was inspired by a real train, "
Santa Train
" which has been carrying tons of toys and treats to children in the Appalachian Mountains since 1943. So I might use this book as a hook if I was doing a unit on the history of the communities in the Appalachian Mountains.