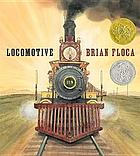 After seeing that
Locomotive
had won a Caldecott Medal and The Robert F. Sibert Honor Book, I decided that I want to read it for my blog. However, it wasn't quite what I thought it would be. I expected a beautifully written picture book, but it's actually more of an informational text with nice writing and a fantastic layout with beautiful illustrations. I guess that's why it won the The Robert F. Sibert Honor Book, "the most distinguished informational book published in the United States in English." Unfortunately, I didn't find it very interesting, and I've even lived in and experienced several of places that are mentioned in the book.
The story starts with how the transcontinental railroad was built. Brain Floca writes,
"Men came from far away
to build from the East
to build from the West,
to meet in the middle.
They cleared the rocks
and dug the tunnels.
They raised the hammers
and brought them down--
"Three strokes to the spike,
ten spikes to the rail!"
Your trip starts waiting for the train in Omaha, Nebraska. It's the jumping off point to the sea. The story then goes on to discuss in great detail how the train runs on the tracks and how the employees work throughout the train. It is very informative, yet not so interesting. Next the story describes the places you see along the way, and the all the work that must take place to get the train across the country. Miraculously, you've made it across the country to Sacramento, California in just one week.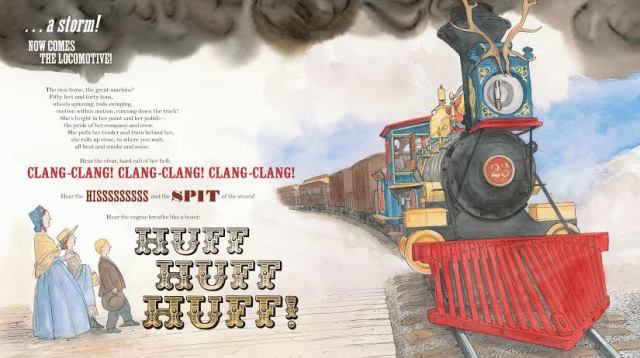 The thing that I enjoyed the most about this story is the beautiful, detailed illustrations, and the wonderful way that it was laid out on the page. The book starts with end pages that give background information on the importance of the Transcontinental Railroad and how steam power works on a train. The text is organized in a poem like format that repeats the rhythm of the train on the tracks. It wraps around detailed illustrations of the train and the beautiful passing scenery. The book designer has creatively used different type and font size to enrich the train experience. The trip takes you through high prairie, desert, mountains, rickety bridges and scary tunnels. It's an incredible visual journey that leads you to the waiting arms of your family in an exciting new city.
Locomotion is a beautiful book for those who love trains or the westward expansion period in history. For the rest of us, it's really pretty to look at.
Awards
• New York Times 10 Best Illustrated Books of the Year
• Wall Street Journal Top 10 Children's Books of 2013
• Orbis Pictus Honor Book
• Amazon.com Top 20 Children's Books of 2013
• Booklist's Top of the List pick for Youth Picture Book 2013
• Publishers Weekly Best Books of 2013
• School Library Journal Best Books 2013 Nonfiction
• Kirkus Reviews Best Children's Books of 2013• Horn Book Fanfare
• New York Public Library 100 Books for Reading and Sharing 2013
• Huffington Post Best Picture Books of 2103 (Best History/Biography)
• Shelf Awareness Best Books of 2013 • Fuse #8 100 Magnificent Children's Books 2013
• Winter 2013–2014 Kids' Indie Next List Preview• Junior Library Guild selection