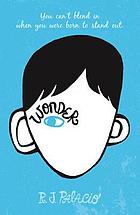 An important part in reading any book is to be able to make a personal connection to the story. Oddly, I had a big connection to
Wonder
. At one point I worked as a Special Education Teacher Assistant, and I worked with a child that also had Treacher Collins Syndrome and suffered from many of the same issues as the main character. So in some cases the book seemed very real to me, however based on my experience and research I did to help introduce my special ed. student to her peers, I struggled with the fact that Auggie was suppose to be such a normal kid.
Wonder is the story of fifth grader Auggie Pullman and the trials and tribulations that he goes through attending his first year of school. However Auggie isn't just the new kid, he was born with severe facial deformities. He has learned to ignore people staring when he walks by but when the class bully starts a full assault, he and his new friends have to learn to stand together.
August (Auggie) Pullman desperately wants to be a normal kid, and he is in a lot of ways. He has an Xbox, rides a bike, plays ball, and loves ice cream. But as he says "I know ordinary kids don't make other ordinary kids run away screaming in playgrounds. I know ordinary kids don't get stared at wherever they go." Auggie was born with severe facial abnormalities and survived twenty-seven surgeries by the time he was in fourth grade. At the beginning of the story he is faced with attending school for the first time and the first chapters are written from his point of view. He worries about all the typical problems associated with attending school the first time. How will he make friends? Who will he eat lunch with? But he also has to worry about what kids will say about his face. He knows the names "rat boy. freak. monster. Freddy Kruegor. E.T. Gross-out. Lizard Face. Mutant." He has heard them all. This year he faces more than name calling, he has to deal with the whole grade playing a game called "The Plague" where no one would touch him, Julian the class jerk making classmates take sides against him, and a gang of mean seventh grades wanting to do physical harm. Auggie learns to open up to new friends, to hold his head high, and most importantly to start to grow up and look forward to his future.
Another important character is Auggie's sister, Olivia. She has been Auggie's protector for his whole life. After his birth, she took a step aside so that her parents could focus on all of Auggie's needs. Via says, "August is the Sun. Me and Mom and Dad are planets orbiting the Sun." She has silently done all her homework, dealt with transportation to any activity, figured out how to put things together, suffered through bad days, and mean things because it is "nothing compared to what August has gone through. This isn't me being noble, by the way: it's just the way I know it is." Except this year she has started high school, some place that no one knows about Auggie and she has the opportunity to just be a nice girl, not the girl with the deformed brother. However things often change in high school and Oliva's friends also begin to change too. Unfortunately since her parents have failed to once again pick up on the things going on in her life, Oliva's resentment is pushed to the boiling point. She doesn't tell her parents about participating in the school play, and when they find out, she lets it be known that she doesn't want Auggie to come. This revelation pushes them to finally realize that Via has a lot going on in her life and that they need to allow Auggie to become more independent and support Olivia in her dreams.
Mr. Browne's September Precept: "When given the choice between being right or being kind. Choose Kind" is the theme of this story. Auggie faces bullying throughout this story, and as you move through the story you see several of the characters choosing kindness over other things. R.J. Palacio gave each character a separate part in the book so that they were able to tell their story as it intertwined with Auggie's story. Olivia discusses how she has spent her life defending and protecting Auggie and in the end including him in her teenage life. She choose kindness over her own needs. Part three is written by Auggie's friend Summer. She is the only character that stays true to him throughout the whole story. She takes the bold step to sit next to Auggie at lunch on the first day of school. She choose kindness. Part Four is written by Jack. He is choose by the teachers to show Auggie around school and slightly pressured into being the new kid's buddy, however over time he grows to like Auggie and suffers when he messes up their relationship. He chooses to face down most of the grade level and stick by Auggie's side. Once again he choose kindness. Throughout the story the characters are affected by Auggie's courage to face his issue head on and they choose to stand up for what they believe in. With their support Auggie is able to overcome his fears and conquer middle school.
R.J. Palacio has created a wonderful children book that deals with learning to accept your life situation and that you need to stand by your friends. I would love to read more about Auggie's life.
R.J. Palacio