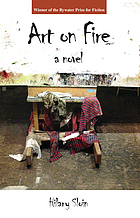 Art on Fire
has to be one of the most intriguing books that I have ever read. Even though it is a dark story that ends with a tragedy, I could not put it down. It is the pseudo-biography of a young artist, Francesca deSilva who, to her dismay, "becomes the founding mother of "pseudo-realism." Hilary Sloin does an amazing job supporting her biography concept with scholarly articles and footnotes throughout the story. It is no wonder that this book a handful of prizes which I found on Google. Interestingly the back cover of the book stated that it had been awarded a non-fiction prize at the Amherst Book and Plow Competition, yet I was unable to find that award any where online. Fact or Fiction?
The story opens with Francesca's early life with her family in a small house in New Haven. The family revolves around her sister Isabella, who is a brilliant genius with a growing mental illness. Her mother is cold, withdrawn, and hyper-focused on Isabella to the detriment of her marriage and Francesca. Her father is present, but has little idea how, and no ability to connect to either of his daughters. Francesca's only support comes from her Grandmother who lets it be known on a regular basis that she thinks Vivian, Francesca's mother, is lousy at motherhood. Francesca has always known that she is different, but it isn't till she meets Lisa Sinsong, child chess genius, that she realizes why. Francesca falls deeply in love with Lisa who is also another tortured soul. When Francisca's grandmother catches her in bed with Lisa, her reaction causes Francisca to run away. Once in Cape Cod, Francisca starts a bohemian life style, living in a cabin in the woods and working at the local flea market. A chance encounter with another woman, Lucky, whose artist husband has a basement full of painting supplies starts Francisca career and rise to fame. The death of her grandmother forces Franciscan to return to New Haven and the dysfunction of her family. Once there a tragic fire kills her and her whole family and destroys most of her art work.
One of the things that make this story read like a true biography is how it is organized. Within the narrative of Francisca's life, there are the thirteen critical essays. The essays are critics of different pieces of Francisca's art work written by art critics, academics and psychologists. They were critical of everything about Francisca deSilva. They tore into her early life and how it was reflected in her art work, how her lesbian life style affected her, and even if she was a "flash in the pan" artist who would not have staying power. They were so well written that half the time I spent reading the book, I was looking up the different critics and looking for Francisca deSilva's art work.
Another thing that Hilary Sloin did throughout the book was the use of footnotes. She used them freely to help make connections for the reader. At the beginning of the book the author tells us that Francisca "longed to be Same Gribley, the boy in
My Side of the Mountain:
to run away from home and survive on instinct, live alone with a wild animal she'd tame." (pg. 5) This reference is footnoted with a brief summary of the book (truth) and then a description of where Francisca's copy is located after the fire (fiction). In the critical essays, Sloin has an imaginary critic write fabulous critical essays on the her art, "Such strange, unearthly, incandescence is a signature of deSilva's work: Her subjects seem, collectively, to struggle against an unidentified, intrusive light." (pg. 17) The essay even uses a quote from another art critic, then she footnotes it with made up art credentials and art publications to make it seem real. Once again, it is difficult to tell the difference between what is real and what is creatively written.
This was a dark book that was very well written. However, I would not recommend it to anyone under eighteen because it does talk with sexuality in a very adult manner. Personally, I don't feel it is appropriate for most high school students. I also feel that it is unfortunate, because this book has all of the issues that make a great young adult book: cold, indifferent parenting, sibling rivalry, a struggle to find yourself, and
coming to term with your sexuality.