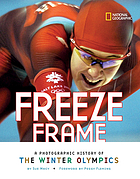 Freeze Frame: A Photographic History of The Winter Olympics
is a beautiful example of a non-fiction text. It has eye popping photos of athletes in action, interesting facts about the games, and most importantly a history of a world event.
While
Freeze Frame
has incredible photos that would interest a younger reader, it was written for an older audience. Its text goes into great detail about the Winter Olympics and the history of the event. It includes information about the important players in the Winter Olympic movement and the athletes that stood out from the rest in the early days. I was surprised to learn that there was a lot of opposition to starting winter games, "surprisingly, the greatest opposition to the idea of winter sports at the Olympics came from the Scandinavians." (pg. 15) They already had the Nordic Games which their athletes dominated every 4 years. One interesting fact is that the U.S. delegation had a ten-day voyage in an ocean liner and many of the athletes were seasick during the first Olympics in 1924.
Freeze Frame
covers everything from weather issues, to outstanding athletes, to internal and external conflicts, and the celebrations that make the Olympics a world class event.
The photos in
Freeze Frame
cover all aspects of the Olympics. There are shots of old sporting equipment, posed photos of athletes, and my favorite, action shots. The history of the Olympics is documented in black and white photos of people in old timey dress. Each with a interesting fact filled caption. One caption under a very young skater says "Just 11 years old when she competed at her first winter games, Sonja Henie helped to revolutionize figure skating by performing the required moves to music and wearing short skirts" (pg. 16). Who would have imagined that figure skating was originally done in a long skirt? The book is filled with photos that are filled with important information about the history of the Winter Olympics.
Sue Macy has done a wonderful job documenting the history of the Winter Olympics. I would definitely recommend this book to older readers, especially those that love winter sports.