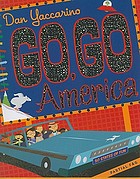 I found
Go, Go America
when I was looking for a geography book for my second grade class. We are participating in
The Great Mail Race
and I wanted my students to learn more about the fifty states. I thought this would be an eye catching, informative book to help them understand the geography of our country.
Go, Go America
starts off with a dedication to the author's parents; "For my parents, who dragged us up and down the Eastern Seaboard against our will. I am just starting to appreciate it!" It is followed by a picture of the author, his sister, and brother hanging out the windows of a vintage station wagon on a family road trip in 1970.
Next you are introduced to the "Fabulous Farley Family" who will be doing the traveling on this road trip. Each family member is given a brief bio, all of which are funny. "Freddie--knows lots of interesting facts about the United States and is eager to share his knowledge, even if no one wants to hear it." "Fran--would prefer to be biking, hiking, or skiing cross-country rather than riding in a car. And she's still mad at Mom for telling her that she can't ride on the roof." There's an interesting side note "Beware of BIGFOOT! He lurks throughout the states and in these pages. Can you spot him?" Clever--a car trick in a book. Next, the table of contents is actually a map with each state labeled with its page number. Finally you are ready to start your road trip!
The thing that makes this a GREAT geography book are the illustrations. They are full bleed with vivid colors and a contemporary design. They beg you to read the book. Each state has its own page with the state name, slogan, and a map with the capital labeled. The page contents important facts about the state's history, interesting events that take place there, and even some crazy laws that are still on the state law books. Did you know that in San Antonio, a law forbids monkeys to ride on buses? In Maine, West Quoddy Head Lighthouse is the most easterly point in the U.S. Levi Hutchins invented the first alarm clock in Hew Hampshire in 1787. The whole book is filled with facts that children will love to learn and to share with who ever will listen.
The book closes with a chart of all the states. The chart list the capital, the date of statehood and their order, the area, the state bird/flower/tree, the motto, and its nickname--all important facts when you are a geography buff. It even has a Farley family photo gallery.
I enjoyed reading this book and I look forward to sharing it with my students as we receive letters from around the country.