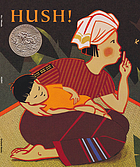 It is easy to understand why
Hush! A Thai Lullaby
was a Caldecotte Honor Book in 1997. It's a beautiful poem of a mother trying to quiet her world so that her baby can sleep. You can see the mother going through all the animals in her environment telling them to be quiet because her baby needs to sleep. She goes from the smallest animal, the mosquito, to the largest asking them to be quiet.
Hush!
Who's that weeping
in the wind?
"Wee-wee, Wee-wee,"
A small mosquito.
Mosquito, mosquito,
don't come weeping.
Can't you see that
Baby's sleeping?
Mosquito, mosquito,
don't you cry,
My baby's sleeping
right nearby.
The pattern then repeats with a lizard, cat, mouse, frog, pig, duck, monkey, buffalo, and finally the elephant. I think that this is a great book to teach with younger children. You can use it to teach concepts of word, animals sounds, about another country, and even compare and contrast with similar poems from our culture. The rhyme and rhythm would make it the perfect poem to share with young readers.
Holly Meade did a wonderful job illustrating this poem. She used red ink and cut paper to make collage pictures that have texture. Her choice of muted tones give the soft quietness needed for sleeping. The illustrations also share with the reader the culture of the Thai people. The mother is shown in traditional dress, living in a traditional Thai home, and is surrounding by native animals. There is also a touch of humor in the illustrations. In each scene where you see the mother telling an animal to be quiet you can see the baby in the background crawling around, swinging, playing, and doing everything, but sleeping. At the end of the poem when night has come and the mother finally lays down her head, you see that the baby is once again awake and ready to play. There is no rest for the weary mother. Young children would find great humor in this poem.
This is a poem that I will read to my class the next year during our poetry unit. I think its a wonderful to introduce children to poetry. I think that it would be a wonderful poem to do as a choral reading. I look forward to using it next year!