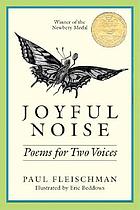 I have always seen reading poetry as a task that I had to accomplish, not as something that I might read for enjoyment. I am glad to say that
Joyful Noise: Poems for Two Voices
along with
Dark Emperor
have changed my mind...at least about children's poetry.
Joyful Noise: Poems for Two Voices
is a wonderful poetry book for children. Paul Fleischman has chosen a subject that children are fascinated with--insects. There are poems about grasshoppers, honeybees, fireflies, etc. Since they are all around us, most children have some background knowledge of them. This enables them to focus on the meaning of the words and enjoy the beauty of the rhythm and rhyme. He also writes in short verses using carefully choosen words that personify the bugs, but are also child friendly.
One of the interesting things about
Joyful Noise
is the way that the poems are laid out. Each poem has two columns, one for each reader. At some points in the poem both readers repeat the same line, emphasizing the meaning. This allows the readers to harmonize with each other giving the poems a rhythm that sounds like the insect. Both readers have to work together to create these beautiful poems. I think this is a wonderful way for students to work on their fluency. I am looking forward to using some of these poems in my reading groups.
I am amazed by how Fleischman is able to use words to help you visualize each bug and their behaviors. In "Cicadas", stanzas like--
"Afternoon, mid-August
Two cicadas singing Two cicadas singing
Air kiln-hot, lead-heavy
Five cicadas humming Five cicadas humming
Thunderheads northwestward
Twelve cicadas buzzing Twelve cicadas buzzing
Up and down the street
The mighty choir's the mighty choir's
assembling assembling" (pg. 26)
help you imagine the sweltering heat of a summer's afternoon and the gradual rise in the shrieking of a tree full of cicadas. Something that is sweet music to most southerns. In "Honeybees", he explains the hierarchy of life inside a beehive. One voice is the worker bee who talks about a life of hard work, while the second voice is the queen bee who talks of a life of leisure. Eric Beddows' simple black ink illustration of a pretty honeybee stretched out on a lounge chair help emphasize the comic side of the poems.
Joyful Noise: Poems for Two Voices was a joy to read and I can't wait to share it with my class. It's no wonder that it won the 1989 Newberry Award Winner.