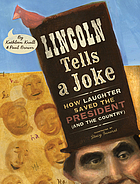 Lincoln Tells a Joke
is a biography that focuses on how Abraham Lincoln used humor to get through his life, both the good times and the bad. It starts with the early years of his life on the frontier of Kentucky and Indiana. Next it briefly describes his life growing up and moving away from his family and joining the military. The last part of the book focuses on his life in politics. First, running for Illinois state legislature then for the House of Representatives and finally for President. Through out the book there are quotes from Lincoln that show his love for word, laughter and people. The opening page sums up the book:
Poor
Abraham
Lincoln.
His life was hardly fun at all.
His childhood was harsh.
He looked homely and he knew it.
Sadness disturbed him off and on.
His family had ups and downs.
When he ran for public office, he often lost.
As our sixteenth president, he was unpopular.
And when his country went to war,
it nearly split in two.
But Lincoln had his own way of dealing with life.
Not many people remember it today.
It was all about laughing.
One of the things that I enjoyed about this book is that it made Abraham Lincoln seem like a real person not just a text book hero. After explaining that he lived in a log cabin with dirt floors with piles of corn husks for beds, and that his childhood days were filled with back breaking work, Lincoln is quoted as saying "My father taught me how to work, but not to love it." It also lets children know that his life wasn't easy, losing his mother, sister, and two sons, but in a way that young children can understand. It also focuses on how much Lincoln loved learning and that he did everything he could to better educate himself. At the age of eleven he wrote his first poem and it shows his sense of humor about himself and life.
Abraham Lincoln
His hand and pen
He will be good but
God knows when
Kathleen Krull and Paul Brewer have done an excellent job of including important historical details of the time with witty fun information about Lincoln helping children get a true sense of the man he was and that he is not just the picture on a five dollar bill.
Another thing that I thought was wonderful about this book was all of the quotes from Lincoln. Many of them are humorous: on life in the military-"a good many bloody battles--with mosquitoes;" on his plain looks--"Common--looking people are the best in the world; that is the reason the Lord makes so many of them;" on the height difference between him and his wife--"Here I am, and here is Mrs. Lincoln. And that's the long and short of it;" and on the first few of the thousands death threats he received--"a little uncomfortable, but there is nothing like getting used to things!" The authors also include several quotes that reflect the seriousness of his Presidency: on his honesty--"You many fool all of the people some of the time, You can even fool some of the people all of the time. But you can't fool all of the people all of the time." "Whenever I hear anyone arguing for slavery, I feel a strong impulse to see it tried on him personally." And finally, "Better to remain silent and be thought a fool than to speak out and remove all doubt." These show the intelligence of the man. The end notes state that the jokes and quotes are from a variety of people after his death and that some are first, second, third hand or further removed so I feel that the story is well researched, but in the case of any historical figure that lived before the age of various ways to record things that there may be a few inaccuracies.
Stacy Innerst's illustrations are a perfect match with the text of this story. He uses acrylic paint to create whimsical old fashioned illustrations. One of the traits that Lincoln is best known for is his height and long features and the illustrations reflect that perfectly. There are several pictures in the story where Lincoln's head and feet are chopped off to emphasis his towering height.
The pages are full bleed that invite the reader into the story and help them feel the humor of Lincoln. I also liked how the book was designed. The text was done in an old fashioned font that occasionally changes size. All of Lincoln's quotes are done in long hand so that it is easy identify that they come from him. Altogether the artwork and the text work together to create a delightful biography of a pivotal man in American History.
While this book is designed for elementary age school children, it is so well written it could also be with older students to launch a discussion about Lincoln. I will definitely be using it next year when I teach my students about Abraham Lincoln.