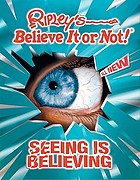 Every child that I know can't get enough of one particular non-fiction series, Ripley's Believe It or Not! books. Over the years I have had several of them in my classroom, and every year my students argue and fight to get to read them. By the end of the year the binding is broken and the pages are falling out, another one bites the dust.
Ripley's Believe It or Not! Seeing Is Believing
is the newest one that I have adding to my classroom library and it's especially appealing because it has a giant eye hologram on the cover that opens and closes as you move the book. It's the most popular book in my class library!
Ripley's Believe It or Not!
books are a collection of weird, odd things that you do not normally see in your regular life. The
Seeing Is Believing
book is no different. It has sections called Strange but True, Unusual Customs, Crazy Creatures, Travel Tales, Body Oddity, Artistic License, and several more. I have never seen my students actually use the table of contents. They usually just open the book and get lost in the pictures and pages. Each section starts with two tables that have interesting facts that go along with the section. The Crazy Creatures section starts with two charts; one list the fast creatures on earth, the other list the deadliest creatures. The accompanying page has a picture of a kitten with two faces. The section continues with numerous weird and wild facts about the topic. Everything is written in short blurbs that most readers can make their way through so,
Seeing is Believing
is a book for everyone.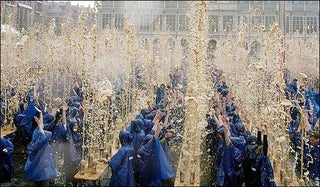 Students dropping Mints into Diet soda
My favorite part of
Seeing Is Believing
are the unbelievable photos. There are close ups, full page spreads, and time order photos. Each picture has a detailed caption that gives you more information about the subject. I really like that there is enough information that you can search for more information about the subject if you want to learn more about it.
Extreme Face Painting
As an adult, the design of the book seems very busy and overwhelming to me. There are bright, vivid colors, different text fonts and points, and things that are layered on top of each other. However children see it a a mind blowing learning experiences. I hear them calling their friends over to "see" the new cool thing that they have discovered. The pictures are so fascinating that they are forced to read the text just to know what coolness the picture is showing.
A hotel that has a daily wild elephant parade

As crazy as Seeing Is Believing seems to be, I did notice that there is a whole page of researcher interviewers, and fact checkers for the book. They also have a publisher's note that says "every effort has been made to verify the accuracy of the entries in this book, the Publishers cannot be held responsible for any errors contained in the work. They would be glad to receive any information from readers." To me this says that they are extremely interested in presenting a factual book for their readers.
Even though it's not my style book, I will always keep a copy of Seeing Is Believing in my classroom. It is the one book that my students wear out from reading every year and that's my goal to get them to read!