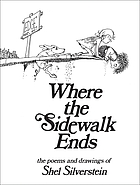 Invitation
If you are a dreamer, come in,
If you are a dreamer, a wisher, a liar,
A hope-er, a prayer, a magic bean buyer...
If you're a pretender, come sit by my fire
For we have some flax-golden tales to spin.
Come in!
Come in!
And that's how one of the best children's poetry book begins. I can't imagine doing a children's poetry unit without including poems by Shil Sileversteint. He is one of the most beloved children's poets in the country. His collection of poems in
Where the Sidewalk Ends
show his talent, silliness, and understanding of children's humor.
Shel Silverstein is a great children's poet because he "gets" children and what they find funny. He writes poems about things that they know and understand. He also doesn't write down to them, he uses adult language and some made up words to express his thoughts and ideas. This empowers children and helps them to love poetry. Take the poem Thumbs:
Thumbs
Oh the thumb-sucker's thumb
May look wrinkled and wet
and withered, and white as the snow,
But the taste of a thumb
Is the sweetest taste yet
(As only we thumb-suckers know).
They know they should give up the thumb, but adults don't understand or remember how good they are when you need a break. Shel Slilverstein remembers things like that and writes about them for children. He also uses language that children understand. The poems are constructed with words that children already know and understand so that they are able to focus on the meaning of the poem. The simpleness of them allow children to believe that they can be poets too.
Shel Silverstein's illustrations are perfect for his poems. They feel just like his poetry, very simple to look at, but they help carry the meaning to the reader. In the poem
Jumping Rope,
the illustration of a girl tingled up in a jump rope helps the reader to visualize what has happened in the story. One of my favorite illustrations is of the mad with the bread to his toes. The poem is even funnier when you have the image of a man using his long beard as clothing. Silverstein's illustrations and poetry fit so closely together I don't think one would be as great without the other.
Where the Sidewalk Ends
is a wonderful to introduce children to the world of poetry.